'Biotech' companies play an essential role in the future development of medicines that are threatening people's lives. Moreover, the pandemic has caused biotechnology to be at the forefront in the fight against the coronavirus. 2020 was a positive year for this sector, the MSCI World Pharmaceuticals, Biotechnology and Life Sciences index achieved a return of 10.57%. Additionally, it is worth mentioning that they, biotech funds, are still having a good performance so far this year.
In these recent decades, the world population has experienced significant growth. Among other reasons, one of the most influential ones is the spectacular growth in health technological advances. Specifically, the healthcare sector is made up of several subsectors. Apart from pharmaceutical companies, which represent a significant percentage of the sector, subsectors such as biotechnology, medical products, medical insurance, pharmaceutical services (hospitals, clinics, nursing homes, etc.), and cosmetics provide greater diversification to the investor.
Best 'biotech' funds
In this following table it is possible to observe the biotech funds that have had the best performance in these last five years: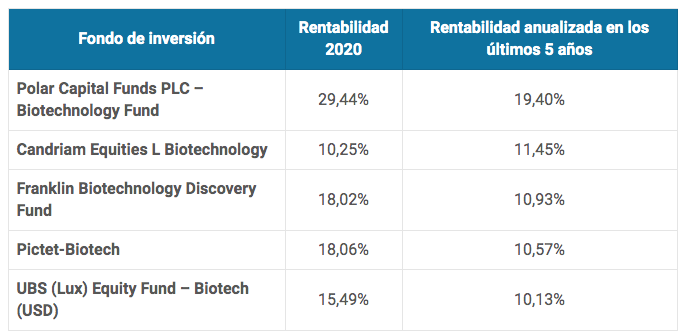 As it is possible to observe, among all the funds, the Polar Capital Funds PLC – Biotechnology Fund stands out, with an annualized return of 19.40% in the last five years, according to Morningstar data as of March 3, 2021. At the forefront of this Polar Capital product is David Pinniger, who was our 'Manager of the Month' in June 2020, since 2013, and his portfolio is focused on US companies (weighing 64.81%). His three biggest positions are Alexion, Argenx, and Vertex. This product has experienced a very positive 2020 with profitability of 29.44% between January and December.
Evolution of the Polar Capital Biotechnology fund since its launch
"The Polar Capital Biotechnology Fund, launched in October 2013, aims to achieve long-term capital appreciation by investing in companies developing and commercialising exciting breakthrough new medicines for a range of serious life threatening diseases. The fund manager aims to create a well-balanced portfolio of investments in companies at various stages of development, using different technologies to develop new medicines for a range of different diseases. The common factor is that the manager aims to invest in the best people behind the innovation. We look to invest in cutting-edge medical innovation where we believe the stock market is under-appreciating a company's potential to transform medical research or clinical practice should one of its new drugs, diagnostics or research tools be successfully developed and commercialised. At Polar Capital we have a team of six healthcare investment specialists with over 120 years of combined industry experience, not to mention the full support of the combined operational, risk and trading functions of the broader organisation.

Since the fund's launch in late 2013 we have maintained a relatively concentrated portfolio of between 40-60 investments, where through a differentiated proactive risk management approach, we hope to invest sufficiently behind our best ideas for them to have a positive impact on performance, whilst being careful to manage investments to mitigate downside risks should our portfolio companies encounter the normal setbacks and delays that are associated with the high-risk nature of biomedical research and innovation. Aware of the high-risk nature of the underlying investments, the structure of the fund is relatively simple and straightforward with the view that if we are investing in companies developing and commercialising truly ground-breaking new medicines and high impact innovation, that can create value for investors irrespective of the background stock market environment."

David Pinniger, CFA Fund Manager, Polar Capital Biotechnology Fund
In the second position in the ranking, it is possible to observe Candriam Equities L Biotechnology with an advance of 11.45% in the last five years and with Rudi Van den Eynde as the manager. This Candriam product invests globally in companies that develop medicines in the field of different diseases. Given the track record of innovation in the US biotech industry, the majority of the fund is invested in US companies.
Candriam Equities L Biotechnology Top Ten Positions
Candriam Equities L Biotechnology is a fund of the Candriam Equities L SICAV that invests globally in companies developing medicines for various diseases. The fund may also invest in molecular diagnostics and scientific equipment companies. Given the US biotechnology sector's history of innovation, the majority of the fund is invested in US companies (90.56%). The investment process is based on a thorough understanding and evaluation of clinical data on "investigational stage" drugs, which means drugs being tested in human clinical trials.

To understand and judge drug characteristics and clinical data the team is comprised also of people with scientific backgrounds (at the time of writing there are 3 PhD's in the fund management team) that calibrate clinical data sets within the context of existing drugs for that disease but also compare pipeline drugs with other investigational compounds developed by other companies, including big pharma companies. Drug development has become a very competitive field and extensive knowledge and access to databases is needed to really understand the future commercial opportunity offered by a new drug.

The fund still invests both in major and well stablished companies as well as more junior, investigational stage companies. Stocks are held for longer periods of time as drug development is a lengthy process but obviously the competitive positioning and new clinical data are monitored constantly and the size of the position adapted to this news flow but also to the stock price, as individual biotechnology companies can have erratic price movements which can create extra opportunities.

Rudi Van den Eynde, manager of Candriam Equities L Biotechnology fund.
The third most profitable fund in the last five years is the Franklin Biotechnology Discovery with a return of 10.93%, and that during the past financial year was 18.02%. Evan McCulloch manages this Franklin Templeton fund and his goal is long-term capital growth by investing in equities of biotech and research companies located primarily in the US; In addition, it invests primarily in small-cap companies (less than $ 2 billion).
Market Cap of Franklin Biotechnology Discovery
"Heading into February, our strategy remained unchanged despite the market volatility of the past few months. While the pandemic is still in place, we continue to concentrate our investments in biotechnology companies whose products are best-in-class, first-in-class, or only-in-class, and address diseases with significant unmet medical need delivering clinical value to patients, physicians and payors. Further, we are mindful of valuation, as well as quality of management and financial position in the current environment.

We continue to believe the commercial side of the business will prove relatively resilient to the economic disruption caused by COVID-19, whereas the development side saw some disruption earlier on as the pandemic started. While it has been difficult to start new clinical trials or maintain the pace of enrollment in existing trials, these activities began to resume this summer or are scheduled to resume in the near term. Further, we have been checking with companies held by the fund to ensure there is minimal disruption to their manufacturing and supply chains, or to any clinical or regulatory timelines. Lastly, most of the developmental-stage companies we invest in rely on capital markets to finance their business models. Fortunately, after a short COVID-19-induced pause, the biotech financing window has been wide open for several months."

Evan McCulloch, manager of Franklin Biotechnology Discovery
Pictet-Biotech occupies the fourth position with a yield of 10.57% and 18.06% in 2020. The manager Pictet AM, led by Tazio Storni, has its focus on the other side of the Atlantic, with a weight greater than 90% of American values. Biogen, Vertex and Amgen occupy the top three positions in the portfolio.
Pictet-Biotech portfolio
Pictet Biotech invests globally in the theme of biotechnology, based on megatrends, a highly fragmented universe, of high growth, being the catalyst the approvals of new medicines. More than 7,000 applications are in clinical development worldwide and two-thirds of the new ones come from biotechnology, whose sales and profit can grow at double digit in coming years. Out of 40,000 listed companies worldwide, 900 have biotechnology-related activities, 350 with 50% of their business value related to the theme, being the minimum exposure, which currently stands at 93% in the fund.

In our strategy, together with fundamental analysis and evaluation of scientific and clinical data, we consider the severity of an unmet medical need, as well as patient's access to the drug. For example, with respect to current pandemic, manufacturers of new vaccines may be winners, but what will really remain is the creation of the technology validation platforms.

The investment process is active and of high conviction, common to Pictet AM's thematic funds. In addition to purity, liquidity and volatility, the fundamental analysis includes franchise, management quality, valuation and momentum, with ESG data integrated for weight determination. A lower weight in mega-capitalization companies than the Nasdaq Biotech index provides diversification. This investment contributes in particular to UN Sustainable Development 2030 Goals 'Good health and wellbeing'. An Advisory Council helps us to follow developments in the theme.

Tazio Storni, co-manager of Pictet Biotech
Finally, it is possible to observe the UBS (Lux) Equity Fund – Biotech (USD) with a revaluation of 15.49% in 2019 and 10.13% since 2016. This fund from the house UBS AM is managed by Nathalie Lötscher. More than 85% of the portfolio is positioned in US companies, including Vertex, AbbVie, Gilead Sciences, Biomarin and Seagen.
Evolution of the UBS (Lux) Equity Fund – Biotech (USD)
"Following a stellar 2019, the biotech sector finished 2020 again with a strong performance of over +28%. After additional tailwinds from the Covid-19 pandemic, we expect the strong long-term key drivers of the sector to drive performance in 2021. In addition to the global demographic change these include an highly unmet need for new therapies in both developed and emerging markets, strong M&A and IPO activities, high levels of innovation and a steady stream of positive data points for new drug therapies making their way through the development pipeline and to market. Year-to-date, the biotech sector ranks among the strongest sectors providing a positive performance.

UBS offers a truly active portfolio construction approach that helps to identify attractively valued companies with high levels of innovation across a broad range of therapeutic disease categories like cancer, orphan diseases and genomic medicines. Throughout the pandemic, our active approach also helps to differentiate between future winners and losers of the crisis. Although some of our Biotech holdings increasingly focused on the treatment of Covid-19, for most of them this field does not represent the sole key value driver. Accordingly, we continue to maintain our exposure in such companies if attractively valued. Resulting from our portfolio construction, we benefit from stable and cash-generating large and mega caps with rich product portfolios as well as from highly innovative small and mid-cap companies. Additionally, our dedicated Healthcare team with a longstanding scientific background aims to take advantage of attractive opportunities arising from M&A and IPO activities."

Dr Nathalie Lötscher, Lead Portfolio Manager of the UBS (Lux) Equity Fund