January 2021: Investors Pick Up Where They Left Off in Roaring 2020
The fear of missing out and believing there is no alternative to equities could well be viewed as the signs of the 2020s. Low bond yields and extremely loose monetary policies coupled with expansive fiscal policies worldwide continued to encourage investors to flock to long-term funds. The huge demand for equity funds seen in the fourth quarter of 2020 remained unbroken, even though equities' strong upward streak lost steam in January.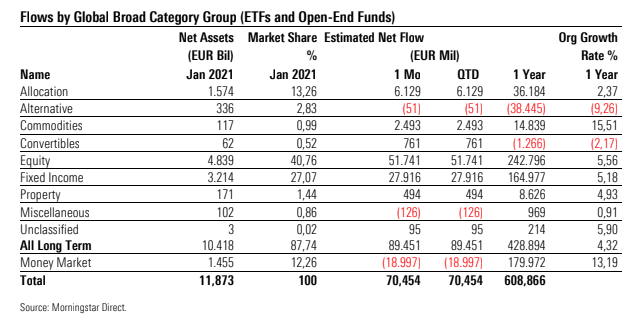 Long-term funds attracted inflows of EUR 89.5 billion in January 2021, the third-best month on record for long-term funds after January 2018 and December 2020 (Morningstar started collecting European fund flow data on an industry level in 2007).
Equity funds were the main beneficiary of the risk-on mode, attracting EUR 51.7 billion, followed by fixed-income funds which took in EUR 27.9 billion. Commodities funds rebounded after two negative months in a row, pulling in EUR 2.5 billion. Allocation funds posted inflows of EUR 6.1 billion, considerably more than the monthly average of the past 12 and 36 months but well below the heydays of 2017-18. Alternative funds were only slightly net-flow negative, a welcome break for the providers of these hedge-fund-mimicking regulated products after torrents of outflows hit this broad category group in past years.
Unsurprisingly, money market funds saw outflows of EUR 19 billion in a risk-on environment.
Assets in long-term funds domiciled in Europe rose from EUR 10.359 trillion per Dec. 31, 2020, to EUR 10.418 trillion per Jan. 31, 2021. This marked a new historic record for Europe's fund industry.
Active Versus Passive
Long-term open-end index funds and exchange-traded funds posted net inflows of EUR 19.6 billion in January versus the EUR 69.85 billion that targeted actively managed funds. (The table below only includes data for the main broad category groups.)
Even though the flows that targeted actively managed funds gathered momentum in January, flows to passive funds outpaced actively managed funds on relative terms. Thanks to the organic growth rate of 8.5% in the trailing 12-month period versus a 3.31% growth rate for actively managed funds, the market share of long-term index funds rose from 19.5% at year-end 2019 to 20.4% as per January 2021. When including money market funds, which are the domain of active managers, the market share of index funds stood at 17.9%, up from 17.2% per Jan. 31, 2020.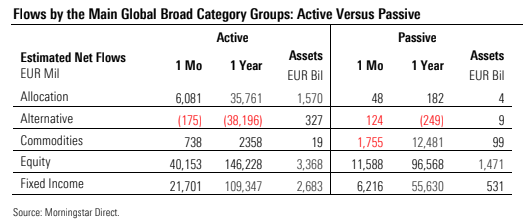 Fund Categories: The Leaders
A look at the top-selling long-term fund categories reveals the continued strong demand for global equities, technology, ecology, and emerging-markets equities. Global large-cap blend equity funds topped the category list in January on the back of inflows of EUR 7.1 billion. The inflows were shared equally by actively managed and index funds. UBS ETF MSCI ACWI ESG Universal and iShares Core MSCI World ETF saw the highest inflows, netting EUR 1.28 billion and EUR 805 million, respectively.
The sector ecology category continued to benefit from the huge demand for environmental, social, and governance and climate-focused funds, garnering inflows of EUR 6.8 billion. BlackRock's institutional ACS Climate Transition World Equity and BNP Paribas Energy Transition were the funds with the highest demand with net inflows of close to EUR 1 billion each.
Sector equity technology and sector equity alternative energy funds were also in high demand, enjoying inflows of EUR 6.7 billion and EUR 4.97 billion, respectively.

Fund Categories: The Laggards
Although valuation-minded investors are increasingly making the case for European equities, as they are much cheaper than their US pendants, investors continued to shun eurozone large-cap equity funds, which bled EUR 1.8 billion. Index funds in this category saw the highest pain as EUR 1.1 billion walked out the door.
Alternative multistrategy funds were yet again very much unloved, posting outflows of EUR 1.1 billion. The highest outflows exited Aviva Investors Multi-Strategy Target Income, Invesco Global Targeted Returns, and DWS Concept Kaldemorgen.

Fund Providers: The Leaders
Thanks to its equity funds' EUR 4.7 billion of inflows and its bond funds' EUR 2.2 billion of net subscriptions, BlackRock topped the list of active managers for January inflows. BGF China Bond and ACS Climate Transition World Equity garnered more than EUR 1 billion each, closely followed by BGF Sustainable Energy, which posted net inflows of EUR 877 million.
JP Morgan's actively managed equity funds pulled in virtually all of EUR 3.8 billion in net subscriptions during the month. JPM China A-Share Opportunities, JPM China, and JPM US Technology enjoyed the highest demand.
On the passive side of the long-term fund market, iShares topped the rankings of asset-gatherers in January. This was mainly due to the EUR 5.7 billion sent to its equity funds, but fixed-income products also enjoyed robust demand. The highest inflows targeted iShares China CNY Bond ETF, iShares Core MSCI World ETF, and iShares Global Clean Energy ETF.
Amundi was a distant runner-up, netting EUR 4.0 billion, most of which was also sent to equity funds. Two ESG funds attracted the highest inflows: Amundi IS MSCI USA SRI and Amundi IS MSCI USA ESG raked in EUR 2.4 billion and EUR 616 million, respectively.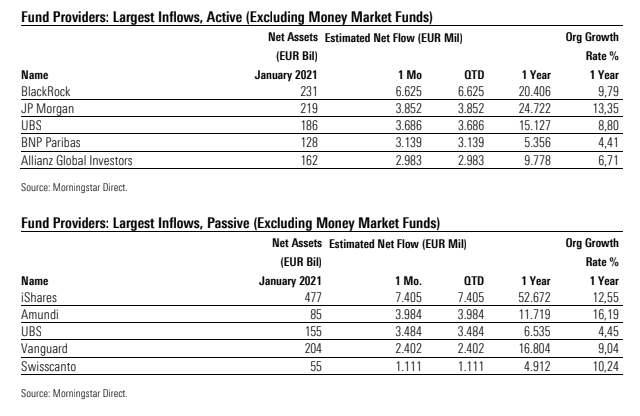 Fund Providers: The Laggards
Dimensional suffered the highest outflows among active managers in January, shedding EUR 660 million, mainly on the back of outflows from global large-cap and global emerging-markets equity funds. Reversing the positive December trend, Swedish pension funds AP7 Aktiefond and AP7 Räntefond suffered outflows of EUR 543 million and EUR 72 million, respectively. Turning to the laggards on the index fund side, Dutch fund provider Actiam suffered the highest pain, seeing EUR 2.3 billion walking out the door. The highest redemptions stemmed from Actiam's North American and European equity funds.
BNP Paribas bucked the positive equity trend and suffered outflows of EUR 715 million from its equity offerings. The highest outflows exited its MSCI Pacific ex Japan and MSCI North America tracker funds, which exclude controversial weapons' manufacturers.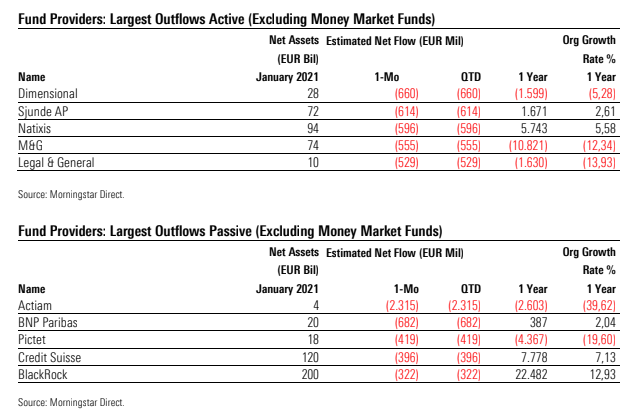 The Largest Open-End Funds and ETFs
Aside from Allianz Income and Growth, January was a month of discontent for most of the behemoth actively managed funds in Europe. Swedish pension fund AP7 Aktiefond shed EUR 543 million. While January and February typically see weak seasonal net sales, the redemptions came at a high pace, thus making January 2021 the second-worst month on record for Europe's largest actively managed fund.
Pimco GIS Income shed EUR 239 million. While euro-hedged share classes suffered outflows of EUR 685 million, US-dollar-hedged share classes, which are typically not distributed in Europe, posted inflows of EUR 473 million. This arguably reflects the global sales activities that have been a typical feature for Europe-domiciled funds, which are increasingly "exported" across the world, mainly in Asia and Latin America.
The same case can be made for Allianz Income and Growth, where the net sales of US-dollar-hedged share classes were also significantly stronger than any other currency-hedged version of the fund.
Conversely, JPM Global Income, a moderate-allocation fund, suffered outflows from all major currency- hedged share classes.
Turning to index funds, the outflows from iShares Core S&P 500 ETF and Vanguard S&P 500 ETF reflect the overall picture of US large-cap blend funds, which were largely out of favor in January. Conversely, the strong inflows sent to the iShares Core MSCI World ETF were a mirror image of the huge demand for global large-cap blend equity funds. Vanguard Global Bond Index continued to draw in money at an impressive pace. In the past 12 months, the fund's organic growth rate, which is flows as percentage of net assets, was close to 20%, reflecting investors' high demand for cheap fixed-income building blocks in times of miserably low yields.